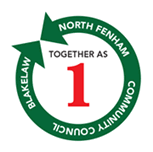 Newcastle City Council - Lets Talk
Newcastle City Council has just launched a Consultation about their thoughts on changes to Transform our City Centre.
These comprise changes to three areas of the City: Changes to Blackett Street, Changes to Northumberland Street and changes to Other Areas of the City.
The Consultation is only open for three weeks
Further information is available online at
https://newcastle.gov.uk/our-city/transport-improvements/city-centre-improvements/transforming-our-city
Community Defibrillator
Blakelaw and North Fenham Community successfully obtained a life saving Defibrillator to help support the community and all the residents in the area of Blakelaw and North Fenham. With the support of the North East Ambulance Service and Your Homes Newcastle, the defibrillator has been placed on the outside of Moorland House.